Posted by HMFRS | August 28, 2014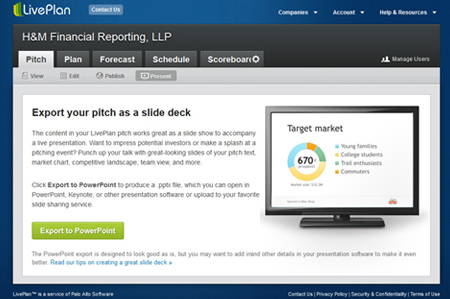 Do you have a great new concept or business idea you are working on? Do you know how you will present it to other people, businesses, customers or venture capitalists? Why not learn how to put together a professional pitch to share with your prospects or colleagues?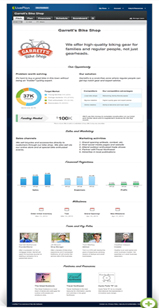 A professional pitch sums up your idea and business to attract investors, partners, lenders and potential employees. It will vary in length according to the context in which you are presenting, so for instance a two minute 'elevator pitch', the 'outline' pitch for first stage funding applications, versus the full presentation for a face to face meeting.
A professional pitch typically includes several components: the company mission, business goals and objectives (short, medium and long-term), opportunities, risk analysis, market research, sales and marketing plan, funding requirements, financial projections, milestones and key personnel.
Formalizing and presenting a professional pitch for your business idea can be a daunting task. HMFRS uses 'LivePlan' software, from Palo Alto, for our business plans and pitches. The software is easy to use, intuitive, interactive and makes the process fun!
Using LivePlan Software To Formulate Your Professional Pitch
Here are the steps to create your pitch in LivePlan.
Personalize the Pitch with Company information and logo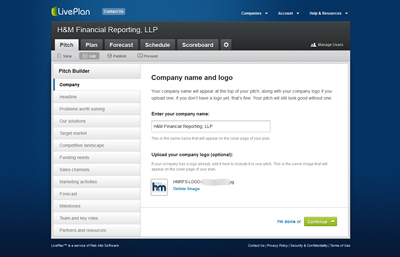 Once you log in to the 'Pitch' section, start with the easiest part: enter your company name and logo to personalize the one page pitch.
LivePlan offers guidance on what information to enter.
Next enter your 'Headline'. As you can see in this screen snapshot to the left, LivePlan provides guidance on what could be entered here.
You can choose which sections to include in your pitch, to tailor it for different purposes. So you may choose to hide sections, as per the image here.
If you do not know where to start, this is not a problem because the software makes it easy for you. It includes templates and examples to help you create your perfect pitch and business plan.
Once your pitch is completed, you can then export it to PowerPoint as a ready-made presentation.
Building your professional pitch has never been easier.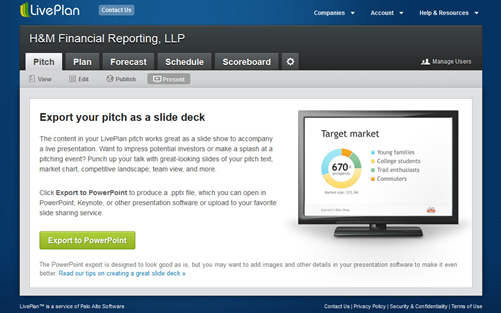 You can collaborate with teammates in the process, or set up tailored user permissions, if you do not want everybody to be able to edit your Pitch.
Because LivePlan is web-based, your information is totally secure and accessible wherever you are. You never have to worry about losing your data.
Your professional pitch is available anywhere, anytime via any remote device should any impromptu opportunity arise for you to present your great new business idea!